Notice to those who have designs on snatching my purse:  There's never any cash there!  If you get my cards, I'll cancel them pronto…you may as well give it up.  The only thing that will be accomplished is aggravation to me as I go through the rigmarole to replace my identification and credit cards.
I remember just a few years ago first hearing the talk that we were moving to a "cashless society."  I scoffed at the idea.  I'm eating my words; I think I'm there.  I never have any "folding money" in my pocket these days.  And when I do, it is likely because I ran by the ATM machine,
not because I held out from a deposit or cashed a check, like the old days.
Remember asking the grocer if you could write a check for $20 more than the grocery bill?  I used to do it so that I'd have money for lunch or gas.  Doesn't happen for me anymore.  I just swipe my debit card instead.  Everywhere.
Just the other day I was in the bank grabbing a deposit slip form and thinking, "I never seem to have enough deposit slips!"  Unfortunately, it's not that I am constantly putting m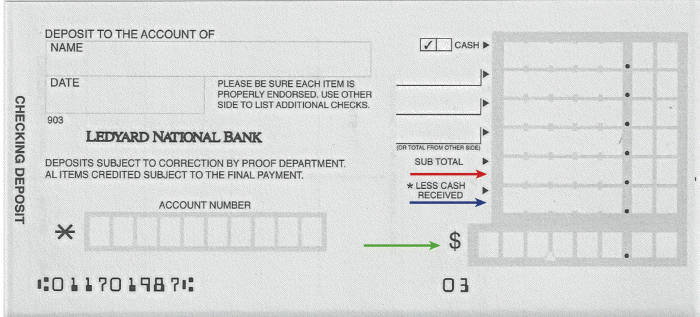 oney into the account, eating up that supply of deposit slips.  Rather, it's that I just don't seem to write checks any more.  About the only non-electronic banking I do is manually deposit my paychecks—they are not auto-deposited.  My deposit slips run out far before I am out of checks.
My utilities, my credit cards, my mortgage….all of these payments are made online.  I cannot think of a single bill for which I write and mail a check. 
It's no wonder the postal service is having budget problems.  We do so much by e-mail and internet these days.  Even in our business, lots of what would normally have been mailed out is now e-mailed.
MIL and my mother neither one want to do the on-line payment thing.   I cannot convince them of the convenience and the safety of this method.   They are accustomed to the paper thing and both regularly mail out stacks of bills, going by the post office to get stamps. 
Me?  I have a postage meter at our office for those legal documents I need to mail.  Other than that, I rarely need postage anymore.
It's just another part of life that's on the move.  Into the 21st Century. Is it my perspective, or is life changing more rapidly than it used to?  I think back to three centuries ago as opposed to two centuries past.  Did the folks in that one-hundred-year span have to experience the rapid changes we do today? 
I know one thing: those panhandlers asking for "spare change" are up the creek where I'm concerned—there's rarely any currency in my pocket to share!  C